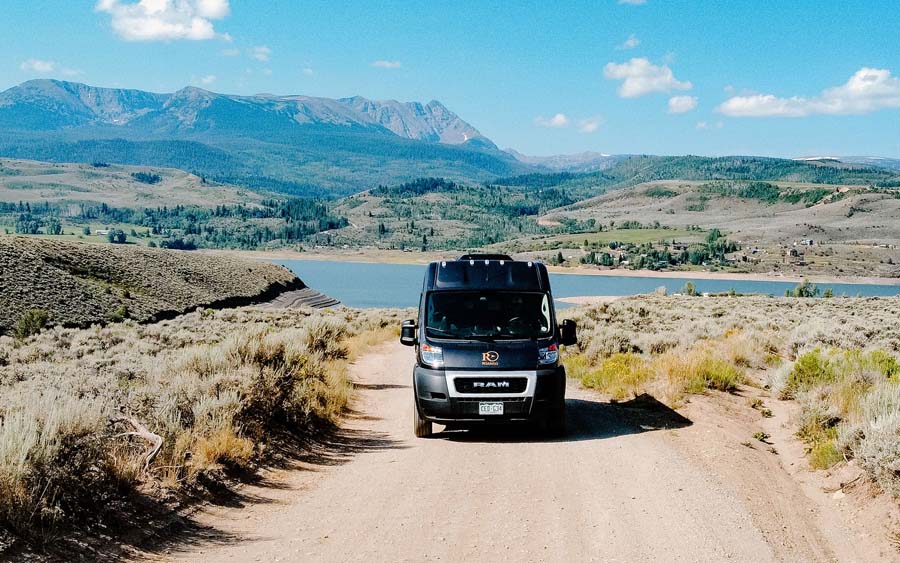 Make Adventure a Lifestyle
Fallen in love with the great outdoors and feeling the urge to turn #VanMoments Into #VanLife? If you're not ready to return your Roameo rental, talk to us about purchasing your Mobile Travel Suite, so you can continue adventuring and enjoying life on the road!
Current Inventory for Sale
Electricity Base Package
100 Ah LiFePO4 Battery—Powers everything included in our base build

2000W Inverter Charger—Turns DC power into AC power for appliance operation

DC-DC Battery Charger—Charges the battery while your engine is running

Shore Power Charging 120V Connection—Charges your battery when plugged into shore power

Circuit Breaker 250 Amp—Protects electrical circuit from excess current

2 Outlets // 120V—Used for 120V items, such as laptops, tablets and phones

8 Lights // 12V Puck Lights With Dual Zones—Keeps van well lit with two modes of brightness

Control Panel—Lets you look at all charging levels in one place
Optional Upgrades
Additional battery for more power

Solar panels to maintain and preserve power while stationary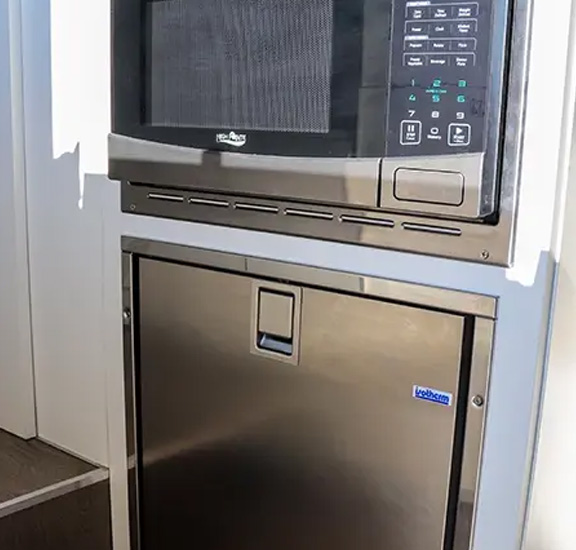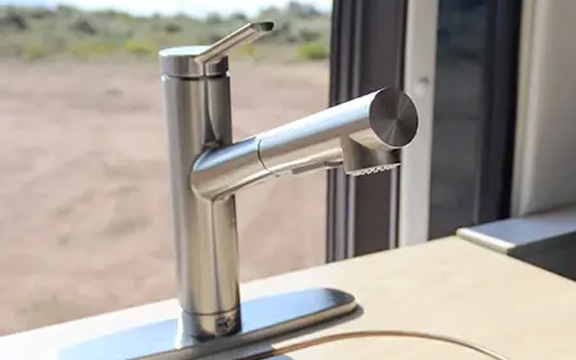 Plumbing Base Package
22 Gallon Freshwater Tank—Holds clean, ready-to-use sink water

40 Gallon Grey Water Tank—Stores used sink water

Water Pump—Moves water through sink faucet for hand and dishwashing
Optional Upgrades
Cassette toilet- flushable toilet with removable cassette from the exterior

Bosch water heater- heats up for hot showers

Indoor shower- feel refreshed from the privacy of your van

Outdoor shower- clean off at the backside of your van
The Interior : Base Interior Finish Packages
Havelock Sheep Wool Insulation—Regulates your van's interior temperature

Upholstered Wall Panels—Adds a warm, inviting touch to your living space

Vinyl Flooring—Provides a nice foundation to feel right at home

Sink—Stainless Steel at 12 1/16″ x 10 1/8″ x 6″

Table Extension—Extend your counter space with a foldable table extension beside the sink

Exterior Table Extension—Enjoy the outdoors with a spot that can hold your food and drinks.

Table & Bench Dinette—The perfect space for sitting, eating, working or just reading a good book

Short Queen Bed Frame—Comfortably fits a short queen mattress

Lower Storage Cabinet—Space to store your dry food, clothes or other essentials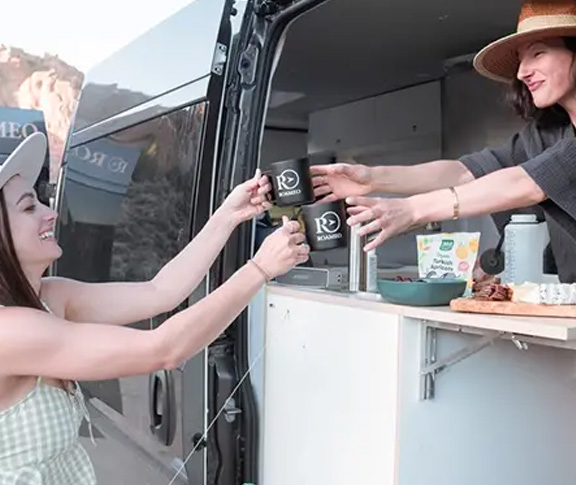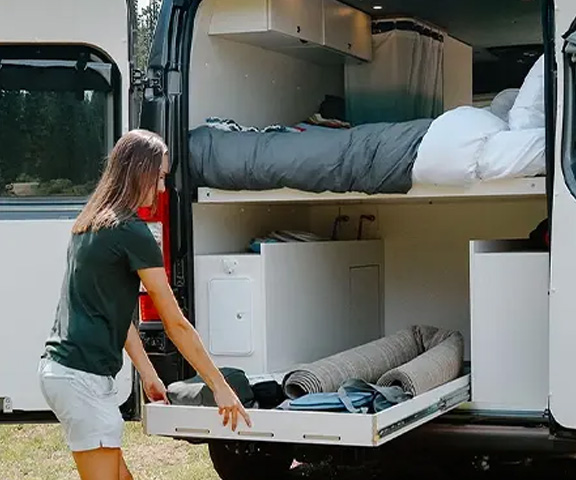 The Garage : Base Package
Wheel Well Boxes—Covers wheels, as well as plumbing and electricity

Finished Flooring—A textured surface to keep your personal items on
Optional Upgrades
Back slide out- get to your gear easily with a slide out tray
More Add-Ons
Espar Heater—Keep it cozy on those cold nights without running your engine

Fresair Evaporative Cooling—Cool your space up to 20 degrees without running your engine

MaxxFan—Provides airflow throughout your space

Windows—Extra screened windows for more light and ventilation from the outside world

Mattress—Short queen bed for a good night's sleep

Fridge—Keep fresh ingredients longer with an Isotherm 65" model

Microwave—Heat up meals and drinks on-the-go

Induction Cooktop—Cook homemade meals in the comfort of your own van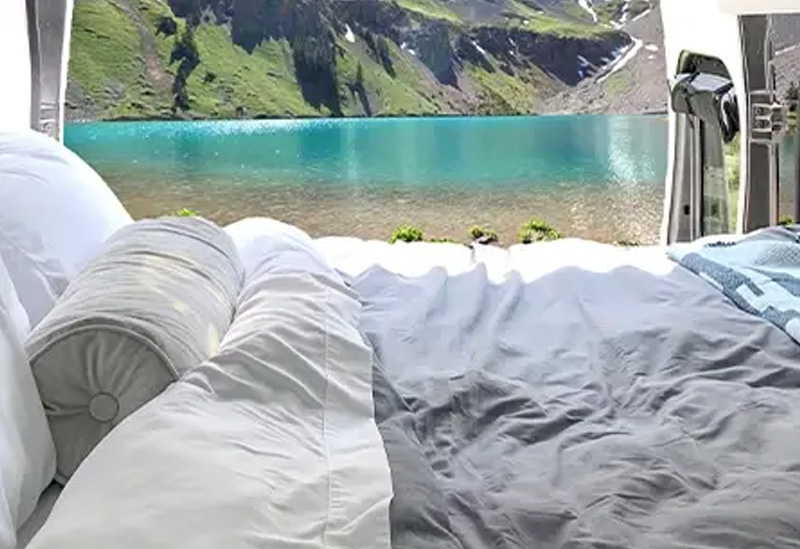 Roameo One Year Warranty
Roameo believes in the quality of our work.
We stand by our work with a one-year warranty on our vans and builds from the date of purchase (subject to the below terms). This warranty protects against defective workmanship for anything we created and/or installed that may rattle loose, break, or stop working.
Note that we do not cover third party products. Customers should inspect products and workmanship thoroughly upon purchase and inform Roameo of any potential defects, concerns, or issues at the time of product receipt.
If anything we built or installed has workmanship concerns within the first year, we will do whatever we can to help fix the problem. This will range from an onsite, shop review at our headquarters in Dacono, CO, long distance troubleshooting together by phone or video, replacement parts and applicable shipping. Roameo seeks to make your adventures on the road as smooth as possible.
Other than as described above, Roameo, LLC makes no other representations and/or warranties, either express or implied, regarding the final product, including without limitation, any warranties as to merchantability, quality, or fitness for a particular purpose.
Roameo, LLC shall not be liable in any way whatsoever for special, indirect, consequential, or incidental damages, whether based on breach of contract, breach of warranty, tort (including negligence), product liability or otherwise, even if they have been advised of the possibility of such damages.
The Customer agrees that his or her full remedy against Roameo, LLC dba Roameo for any liability, claims, or damages, shall be limited to the purchase price of the work and/or products, in whole combined, and irrevocably waives all claims for any other damages that such user may have.
*Disclaimer: This Warranty doesn't cover ordinary wear and tear or damage caused by improper use (including trips to Black Rock Desert, NV, or similar dry lake beds or areas that produce fine dust), neglectful maintenance, cosmetic blemishes that develop or accidents. Additionally, this policy does not cover damage incurred by environmental conditions, weather conditions, or apocalyptic events. This Warranty is only applicable for new products purchased directly from Roameo and does not cover products that are purchased through a secondary reseller. No warranty work will be completed if any monies are still owed and outstanding by the Buyer to the Company.